News theatres opened at a time when no one had even a black and white television and mobile phones were unheard of! So they were really popular, especially with the screening of special events, like the Coronation in 1953.

We had our own units that filmed (on 35mm movie film) all sorts of local events that were then shown at our News Theatres. bfi - Birmingham 1938

The Company was praised for providing what was then considered an important public service; for the presentation (7 days a week) of the world news, local news (such as local sporting events), as well as major National events, like the Derby, Wimbledon, etc., but especially the 1952 Royal Funeral of King George VI, the 1953 Royal Coronation and the Royal wedding of Princess Margaret, all in full colour.

Within the short program (about one hour) were featured short, but interesting travel, scientific discoveries and nature films together with a mix of the news, cartoons and comedy films.

Our News Theatres were the first cinemas to use the moving scintillating signs on the front of their buildings for all the latest headlines.

Later more Cartoons and short Comedy films, formed the one hour program that ran from 10:00am till 10:00pm every day of the week.These cinemas were great places for children's special occasions, or whilst their parents went shopping. On 7th June 1960 we purchased all six Monseigneur News Theatres in the West End of London, these were Piccadilly, Marble Arch, Leicester Square, Baker Street, The Strand and Charing Cross Road, also included was one at Princes Street, Edinburgh.

Many adults were regulars too, enjoying an hour of laughter with a mixture of Charlie Chaplin, Laurel and Hardy, all the Disney and Warner Bros cartoons plus the Pathe News, to name just a few.





My Father George, having met Kenneth Rive, decided to introduce cinemas devoted to the finest Directors from around Europe (as none of these films were available in the UK). All the other feature film cinemas only showed English speaking films from American, UK, or Australia.

The first was the Cinephone Oxford Street (opposite Selfridges) that was converted from our News Theatre, the second was Cinephone Birmingham a specially built additional property and then gradually our news theatres were also converted as these films proved very successful.

The revolutionary screen surround, introduced by Jacey cinemas, cleverly did away with the usual black masking, surrounding the picture for the different film ratios. Instead the projectors, had an added device that projected a reflected blend of the colours in the film at a reduced intensity, onto the surrounding areas of the screen.

The Gala Royal and The International Film Theatre in Westbourne Grove, London, were added (jointly owned with Ken Rive's Company Gala Films). But eventually a nudist film was shown and the box office takings persuaded film producers, distributors and exhibitors like us, that such cheap low budget films were an amazing money spinner!

However, after a while we were embarrassed and unhappy about this development. So we mounted a large national advertising campaign offering very much cheaper seats, with more screenings a day. Our slogan was 'why pay more?' Hoping to kill off the demand, so that we could return to far better good films, with a story worth seeing, to replace all this nudist nonsense. This campaign sadly proved unsuccessful as the takings surprisingly went up!

Marble Arch closed as a Cinema on 28th Dec 1967 and became 'The Jacey Galleries' for antiques and art.

When the Jacey Galleries opened (on 1st December 1969) after extensive alterations in Oxford Street, Marble Arch London, I opened a photographic gallery. The concept of The Viewfinder Gallery (devoted to selling photography as an art form, as well as staging photographic exhibitions) was the first in London and possibly in the UK.

We decided to sell out, mainly because our leases were becoming short and the new rents were far too highly priced, in addition to this, we were not happy with showing poorly produced nudist films and both my father and his brother wished to retire.






Reference Documents

The above link provides all the evidence.


Should anyone enjoying this page have any photographs (that are not already included in my website), or also any interesting anecdotes that could be published do let me know. Please contact me by email, or messenger to describe what you have and I will consider adding them. Those that I decide to add will include a credit back to you. Please do not hesitate to make contact. Email me from http://www.jncohen.net/Contact.htm


Please Note

I have found a few more images that are not in our scrapbook, because of copyright restrictions, these have now been included on my Pinterest Board titled 'History of Jacey Cinemas Ltd UK'


Interview
This oral history interview for The Birmingham Museums Trust by Felicity McWilliams, Curator of Science and Industry, was recorded with John Neville Cohen for the Wonderland Project, all about his experiences with Jacey Cinemas. There is a PDF document that can be downloaded of The Transcript.pdf


Yoko Ono - An Extraordinary Protest Film
We showed a film by Yoko Ono that consisted of 365 nude bottoms! Titled 'Film No. 4' consisting of 365 bare bottoms, the owner's that commented whilst being filmed were recorded, as were those that refused. These commentaries were then re-edited, so that there could be no identification between the image and the voice. Yoko explained that "
these bottoms belong to people who represent the London scene today. It's a kind of protest signed by buttocks."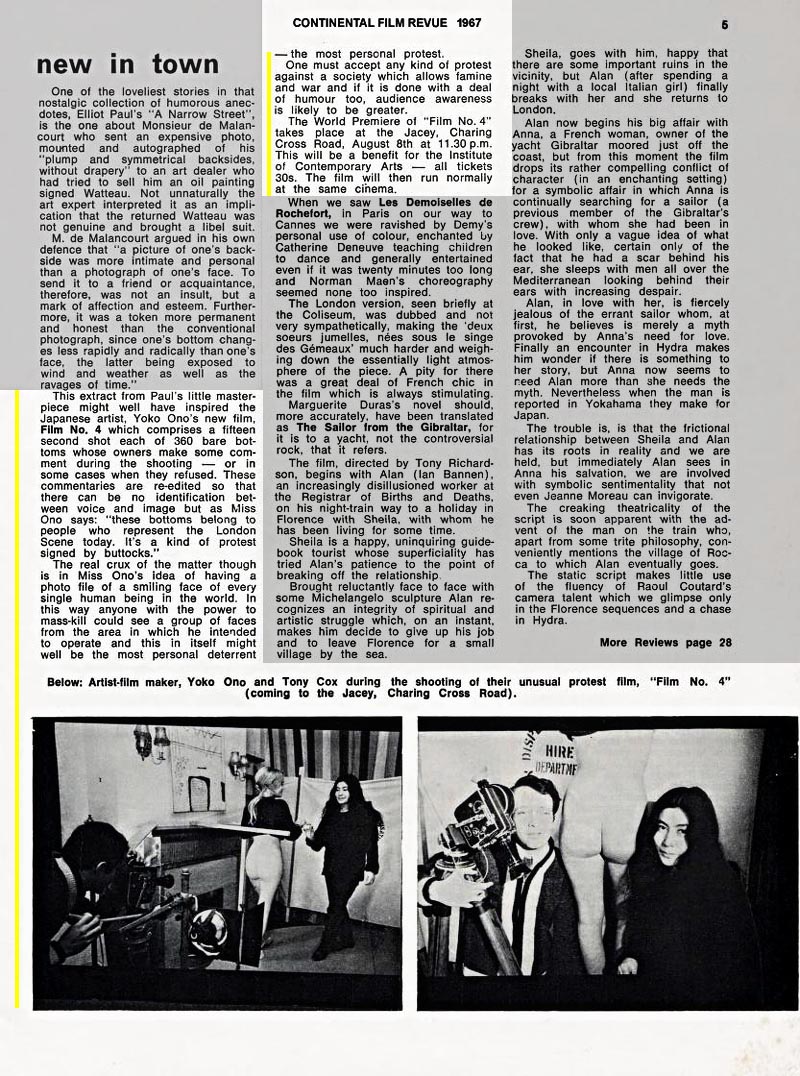 Continental Film Review 1967

See a Larger image



A revue of 'The Naked Hours' at The Jacey, Marble Arch, London that also refers to the quality film policy at this cinema before it later became the Jacey Galleries.




Continental Film Review 1965


Missing From Our Scrapbook
Hungarian film star Eva Bartok visited the Cinephone Theatre in Oxford Street while promoting her movie "Her Crime Was Love" 10th January 1958. Just found and added this picture: -




Gino Cervi, veteran of sixty Italian films and Italy's most famous screen actor, in London, at the Savoy Hotel, for the premiere of his latest film Maddalena at the Cinephone in Oxford Street. He starred as the Communist mayor in the Don Camillo films. See this link: Gino Cervi

Marlene Dietrich came to a film premiere at the Cinephone Oxford Street. Aisha, as Miss Jacey, was to present her with a bouquet of flowers when she arrived. But she remembers that Marlene told her to take them back and to present them to her when she was on stage, which Aisha did. No press cuttings, or photos have been found!

One of Ken Rive's best films (that he produced) included Aisha and our cinema in Picadilly, for more information have a look at the following link: -

The Boys (1962, Sidney J. Furie, UK: Galaworldfilm Productions)

By Adrian Smith




Apart from
Kenneth Rive's
Gala Films that together with my father George pioneered the continental cinemas in the UK.
We also later booked continental films with the following distributors: -
Antony Balch
.
We agreed for Antony to run our Piccadilly and Baker Street cinemas.
He was both fascinating and amusing, keen to experiment, he succeeded in distributing cheap foreign films, without any stars, that were made popular by his clever titles and catch lines.
Antony Balch
Phil Kutner
.
He created and owned Miracle Films that distributed the film that made Brigitte Bardot the ultimate sex symbol 'And God Created Woman'
(directed by Roger Vadim 1956).
E. J. Fancey
.
A colourful character who handled a huge amount of films and owned several distribution companies apart from New Realm. He was a keen betting man and owned race horses.
E. J. Fancey
Adrienne Fancey
- She became the UK's first woman managing director of her own film distribution company (daughter of E. J. Fancey) and she had a huge success with the film 'Emmanuelle' in our cinemas, which broke all the distribution records in the UK at that time!
Adrienne Fancey
Michael Chivers
.
Connoisseur Films & Amanda Films
Tony Tenser
.
Very good at marketing and publicity stunts, he claimed the credit for naming Brigitte Bardot "the sex kitten", whilst head of publicity for Miracle Films. He later got together with Michael Klinger.
Tony Tenser
Michael Klinger
.
Owned several London strip clubs, but later he together with Tony Tenser, created Compton Cameo Film Distributors and Cinecenta.
Michael Klinger


Cartoons, Comedy, Charlie Chaplin, Laurel and Hardy, Nudist Films, Yoko Ono, Antique Gallery, Pathlow Riding School, Jacey Stamps


This website has been designed and produced by ACTUALITY PhotoDigital